$35 Million fine against Office Depot and Support.com
Find out if you are eligble for a refund
PC Health Check Deceptive Practices
When consumers visited an Office Depot or Office Max store, for PC troubleshooting, they were presented with a PC Health Check software. The software was supposed to find problems such as misconfiguration, malware, viruses, or failing equipment. PC Health Check then gave a report making recommendations based on it's findings.
Instead, it asked a series of questions. If you answered "yes", that your computer was "slow to boot" or indicated performance issues, PC Health Check would give a report indicating malware and costly fixes.
You can read the FTC article here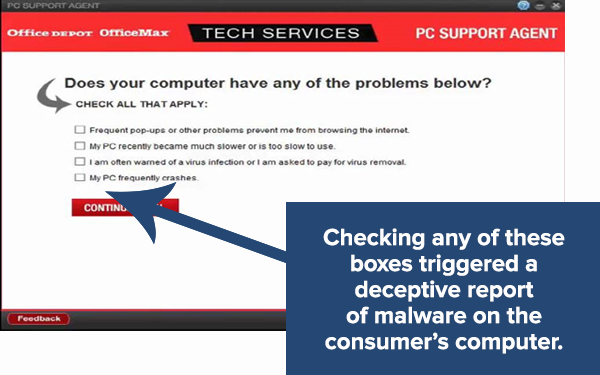 Office Depot (and Office Max) marketed the tool as a "Free PC Checkup" or tune-up. PC Health Check was supposed to help improve performance and report any issues that were found. Office Depot, instead, used the software as a tool to sell expensive repairs and tech services, that were not needed.  Fraudulently charging customers for un-needed services. This went on for nearly a decade.
The FTC alleges that Office Depot, partnered with Support.com, made millions of dollars off this deceptive practice. Answering yes to four simple questions determined if the software indicated a false report of malware and problems.
Tech Support Services you can trust
Many times we tend to trust national brands or well established brands, more than smaller companies or individuals. However, bigger isn't always better. We've all been burned by a company at some point. Either by poor customer service, lack of effort, or outright fraud. You need a technology partner you can trust.
Office Depot's deceptive practices by a national brand is shocking to say the least. Shafer Technology Solutions strives to never sell fear, never to over sell, and not recommend services or agreements that aren't in your best interest.
When we evaluate a computer, business setup, cloud strategy, or anthing in between we make an honest recommendation. We prefer to use our knowledge and help businesses implement technology they need, regardless of profit margin.
It's why our slogan is "Technology | Simplified". Honest service you can trust.
Are you a Business Owner?
Looking for business support? Let's talk about your goals and how we can help!